blog.orbike.com/archives/2006/04/best_route_pdx_to_the_coast.php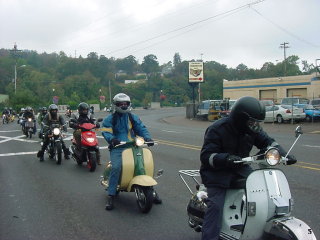 For those of us who travel a little slower (and funner) via bicycle or scooter, picking a route to the coast can be, umm, interesting.
As Michael in the above thread noted, Highway 30 has loud traffic and "it just sucks out your will to live to have it roaring by your left ear all day. Also, there are a bunch of really challenging hills."
So, there are issues of traffic, of speed, of hills, and of scenery. This thread, on the OR Bike blog, is bike specific, but the info is useful for scooterists as well. These will also work for well mannered drivers who want to get off the beaten track. One caution: your cellphone won't work on most of these.

filled under
April 25, 2006 | Permalink | Comments (0)