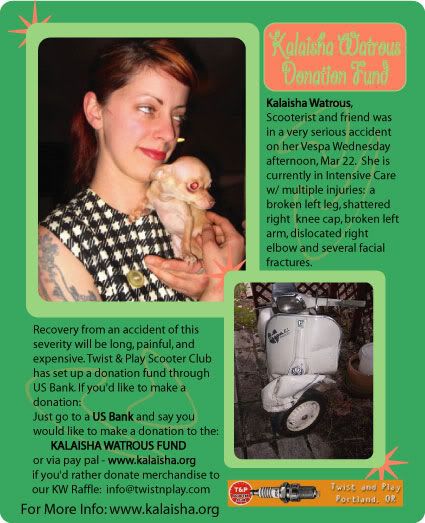 Kalaisha Watrous, scooterist and friend, was in a very serious accident on her Vespa Wednesday March 22. She is currently in Intensive Care with multiple injuries: a broken left leg, shattered right knee cap, broken left arm, dislocated right elbow, and several facial fractures.


Recovery from an accident of this severity will be long, painful, and expensive. Twist & Play Scooter Club has set up a donation fund through US Bank.


If you'd like to give a donation, you can do so at any US Bank—just say you would like to make a donation to the Kalaisha Watrous fund.
Give directly via paypal

more information is available at kalaisha.org

filled under
March 24, 2006 | Permalink | Comments (1)